Blog
>
The Ultimate Guide to Proposal Automation Benefits
The Ultimate Guide to Proposal Automation Benefits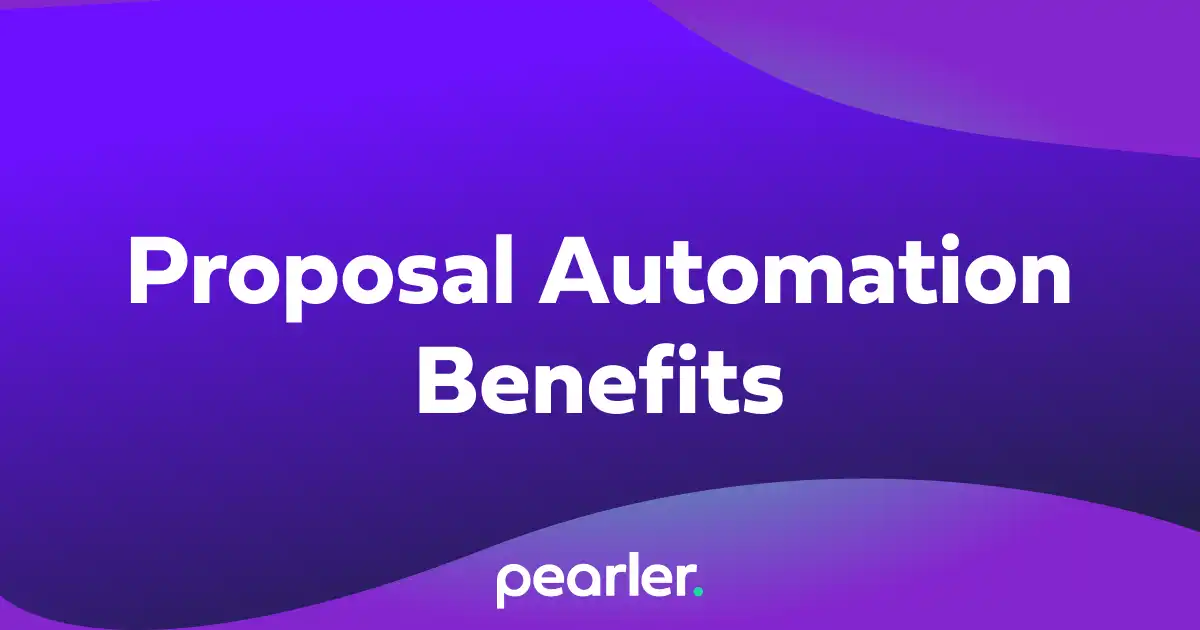 5th April 2023
As a bid and proposal specialist, responding to RFPs may come naturally to you. However, relying on manual procedures can be time-consuming, monotonous, and tedious. If you're all too accustomed to using the ctrl+f, ctrl+x, and ctrl+v keyboard shortcuts when working in Word and spreadsheets, it's time to take a break.
Fortunately, there are proposal automation tools based on AI technology available to help. By automating some or all of the procedures associated with managing bids and proposals, companies can shorten sales cycles, operate leaner, and boost win rates. Proposal automation software is becoming more effective, customisable, available, and cost-effective, with a focus on managing RFP answers, bids, and proposals.
However, the rise of automation may bring up concerns. Will it be secure? Is it worth it? What about my job? In this post, we'll address these concerns and discuss the definition and operation of proposal automation. We'll also highlight the advantages of automation, examples of how firms have used it effectively, and offer a brief buyer's guide for proposal automation software.
By the end of this post, you'll see that proposal automation is not something to fear but rather a tool that can help you do your job better and faster. It's time to embrace the benefits of automation and take your proposal process to the next level.
---
Winning More Deals with Proposal Automation
Bid automation, or proposal automation, is a process that uses technology to reduce the human input required for proposal activities. This involves automating proposal management software elements specifically designed for RFP and proposal processes, including proposal formatting, workflow task management, and content management. The result is increased efficiency, reduced errors, and streamlined processes that ultimately lead to more sales closures.
To get the most out of proposal automation, proposal managers should have a basic understanding of how it works. This doesn't require expertise in the engineering and coding behind it, but rather an understanding of the underlying concepts and logic to aid in troubleshooting and optimisation.
Automation has its roots in manufacturing and has since evolved to reduce human effort in various industries. With proposal automation, if/then logic is used to start proposals and send reminders to subject matter experts (SMEs) who haven't approved assigned queries by a specific date. The system collects and analyses data on SMEs, their inquiries, and the notification's text to enable automation. This data-driven approach enables the if/then statement to function as a collection of data items, which opens up new possibilities for automation. In addition, cutting-edge technologies such as artificial intelligence, machine learning, and natural language processing are incorporated into proposal and RFP response tools to further enhance automation capabilities.
Overall, proposal automation has come a long way and remains true to its core objective of reducing human effort. By incorporating the latest technologies and leveraging data-driven approaches, businesses can reap the benefits of increased efficiency, reduced errors, and improved sales closures.
---
Work Smarter, Not Harder
Proposal automation is a sales technology tool that enhances human involvement in the proposal-making process, rather than replacing it. While automation and AI continue to improve, they will never be able to independently create business proposals. Instead, they provide proposal teams more freedom to concentrate on crucial duties like customising material. Proposal automation software collaborates with users and does not serve as a substitute for them. These tools have the potential to drastically decrease reaction time when used by knowledgeable users. Pearler.ai constantly evaluates and creates new ways to automate response steps for various types of responses, including proposals, RFPs, RFIs, RFQs, DDQs, security questionnaires, and more.
You have to keep in mind that it's crucial to strike a balance between the need for human input and analysis, and AI's capacity to undertake repetitive jobs when automating proposals. The usage of automation is illustrated in some of the instances that follow, along with brief descriptions of the user input that is necessary to produce the best results.
---
Strategic Bidding and Adherence to Requirements
It's critical to deliberately bid on chances that play to your company's advantages and uphold customer demands if you want to close more agreements. It can be tough to sort through lengthy RFPs and client requests and determine each particular requirement. However, needs analysis and organisation are made simple with proposal automation. The program can parse through any request's content and generate a concise set of specifications for users to review.
You can determine whether the opportunity is a suitable fit for your business once you have a comprehensive list of the needs of the customers. This list can also be used as a checklist to make sure your RFP submissions and proposals adhere to the requirements and expectations of the client. To gather requirements, proposal automation searches for phrases like "shall", "may", "should", and "must", among others. Although the software often does a great job of outlining each criterion, accuracy can only be guaranteed by reviewing and verifying the analysis by a human.
---
Accelerate Your Research and Writting Process
Proposal automation software offers a powerful solution for businesses looking to accelerate their research and writing process. One of the primary capabilities of such software is its capacity to spot recurring issues and offer pertinent solutions from a content library, saving time and energy. But it's crucial to comprehend the variations among automation technologies and how they look for solutions, with some relying on exact match searches and others on artificial intelligence, machine learning, and natural language processing.
While automation can present alternatives, it's essential for a human to assess and choose the best solution while keeping the context in mind. Despite this, proposal automation still facilitates the research and writing processes by offering proposal experts a wide range of pertinent options to select from.
---
Assist In Crafting and Revising Replies
Automated tools can help SMEs who might find it difficult to start from scratch create a first draft or revise an answer. These technologies use AI to do a variety of functions, including drafting responses, expanding succinct responses, improving readability, switching from passive to active voice, switching from technical jargon to straightforward English, and more.
The GPT assistant in Pearler.ai can be utilised to make use of AI to complete these tasks. The output must still be reviewed, customised, and fact checked by the users. Although artificial intelligence (AI) can sound more human than ever, it is unaware of a brand's confidential information, competitive advantages, messaging, tone, and preferred style. In order to ensure accuracy and efficacy, users should update automated responses, maintain a consistent style, and ensure that responses are imbued with appealing victory themes.
---
Maintain An Organised Content Library
Similar question and answer pairings are simple to acquire as your content library expands, which might clutter your library and make it challenging to navigate. Thankfully, artificial intelligence (AI) may assist with content management by spotting potential duplicates and marking them for review.
Users should review and ultimately decide which answers to preserve and which to delete, though. While AI is capable of detecting similarities between answers, it is unable to decide which response should be retained for later use. Before eliminating duplicate responses, users should offer advice to optimise and consolidate responses. This is crucial since duplicate answers frequently result from tailoring a response to a specific client or circumstance.
---
Enhance Collaboration With Subject Matter Experts (SMEs)
Enhancing collaboration with Subject Matter Experts (SMEs) is vital to producing a winning proposal. Email-based coordination with numerous stakeholders, however, can be time-consuming and dangerous. Fortunately, all communications and actions are centralised by automated proposal software. This includes tagging SMEs with questions, asking for reviews, reminding people, and getting final permission. SMEs receive notifications about their obligations, and the programme records all activity for future reference.
While proposal automation streamlines communication, it requires the user to handle assignments, responsibilities, and settings. The complexity of huge businesses makes it tough for the software to identify the relevant contributors to a proposal or RFP. However, users may quickly match portions and enquiries to the applicable SMEs. This strategy ensures that the correct individuals receive the right information and facilitates fruitful collaboration.
---
Maintain Progress to Meet Deadlines
Proposal automation software enables real-time tracking of each project's status to maintain progress and meet deadlines. The software offers instant visualisations instead of contacting each contributor and manually producing progress reports. This makes locating possible bottlenecks and implementing fixes simpler. To optimise the process, the user must, however, interpret the data and offer the essential context and strategic insight. Although the software can deliver real-time data, it cannot take the place of the user's knowledge and expertise in identifying the causes of any delays and putting the right plans in place to keep the project on track.
---
Uncover Valuable Insights from Data
Automated proposal tools can gather important response metadata that can provide information about changes made by subject matter experts and most recent audit of compliance-related content (gather data and schedule maintenance). Users can set up automatic review cycles that remind SMEs to update and validate their content in order to keep it current. Automated technologies, however, are unable to confirm the veracity of the data or alert users to irrelevant or out-of-date responses. Users are responsible for thoroughly reviewing and optimising the content. To reduce the possibility of errors, users must decide on the frequency and reviewers. In conclusion, while proposal automation can gather and organise data, it is up to users to derive meaningful insights and guarantee the precision and relevance of the responses.
---
Top Three Advantages of Proposal Automation
For businesses trying to streamline their proposal creation process, proposal automation has become a crucial tool. For something to be truly valuable, it must offer measurable advantages that can aid organisations in achieving their objectives. Improved productivity, increased accuracy, and improved teamwork are the three main benefits to take into account.
For businesses, proposal automation can be a game-changer because it can greatly boost productivity and free up crucial time. Teams can easily discover information, send reminders, and check responses with automation, freeing them to concentrate on more strategic tasks that can result in greater revenues. For instance, Cisco streamlined their RFP response process by using proposal automation. They were able to respond to up to 80% of their RFPs with pre-written content thanks to automation tools, which allowed them to submit more responses and close more transactions. The more content they added to their library, the more accurate and effective their automation process became.
One of the major benefits of proposal automation also includes the fact that it gives organisations more consistent processes. By automating proposals, businesses may create a repeatable, centralised process that offers better organisation and clarity. In contrast, manual responses frequently entail the sharing of information over many platforms, including email, spreadsheets, and phone conversations. This compartmentalised knowledge raises the possibility that proposals will include inconsistent or erroneous responses, which could be bad for the organisation. However, teams may make sure that responses are correct and consistent with proposal automation, which improves outcomes and increases win rates
Organisations can also record and analyse a variety of data from each RFP and accompanying proposal thanks to proposal automation. Businesses may evaluate the ROI of proposal software, find opportunities for process enhancements, pricing optimisation, sales messaging improvement, and more by automating the process. Companies are able to make data-driven decisions thanks to this data analysis, which can enhance their whole proposal process and ultimately boost revenue.
---
Symplifying Your Search for Proposal Automation Software
It can be difficult to find the ideal proposal automation software for your company. It's crucial to take the essential actions to streamline your search and guarantee that you make an informed choice. There are a few important things to think about while selecting proposal automation software to get you started.
When searching for the right proposal automation software, there are several factors to consider. These include the ease of use and organisation of the centralised content library, the ability for the software to suggest relevant answers automatically, and how requests are imported and identified. Project management tools are also important to ensure on-time delivery, as well as integrations with existing processes and sales technologies. Additionally, data analysis is crucial to capture key metadata, while document tools, such as e-signatures and document library management, are also important.
When searching for proposal automation software, there are several important factors to consider beyond just features. For instance, it is essential to examine whether the company has a reputation for being a leader in the industry and if they receive strong reviews from users. Another important consideration is the level of customer support that the company offers. In addition, it is vital to assess the user experience of the tool and whether it is easy to use, navigate, and understand. Other factors that should be taken into account include the platform's flexibility for additional use cases, how the software manages security and data, and if they allow various user permission levels to keep information secure. Lastly, it is worth investigating whether the company regularly releases updates and enhancements designed to improve the user's process, giving them a competitive edge.
---
Preparing Your Organisation for Future Automation
Even if you're not yet ready to invest in automation, it's crucial to start making preparations for your company's future automation. Making a business case for proposal software, which may assist you in determining the advantages and return on investment of automation, is one approach to achieve this. Additionally, evaluate your present processes and workflows to find opportunities for improvement before you begin laying the groundwork for effective automation. Preparing your organisation for future automation involves several steps that will help you identify areas that are ready for automation and plan for the time saved.
Firstly, create a detailed, step-by-step map of your current proposal process to understand who is involved in the decisions, what information is gathered, and who plays which role in proposal creation. After that, estimate and note the hours required to complete each task to identify the areas where automation will be most impactful. Additionally, consider how you will redirect the time saved and explore strategies to improve efficiency and effectiveness.
Secondly, organising and optimising your proposal content library, digging into your data, and removing duplicate and outdated answers can provide valuable information to improve the quality of your data.
Lastly, ensure on-brand messaging, consistency in tone, word choice, and style, and identify which answers appear in winning proposals to improve your proposal process. By taking these steps, you can prepare your organisation for future automation and maximise its benefits.
---
The Power of Automation
While automation has transformed proposal teams, the RFP process still relies on human interaction to discover clients who can advance organisations' objectives, while also advancing their own. By automating the most time-consuming aspects of the process and assisting in strategic decision-making, proposal automation has the potential to improve business development and proposal efficiency.
As Jill Konrath points out, automation, when combined with the right tools, can empower people to deliver more value to prospects and clients, boost revenue, and streamline internal processes. It's not about replacing people, but rather providing them with the tools they need to be more effective.
The power of automation is undeniable, and the question now is, are you ready to embrace it?
Looking for more help using Pearler? No problem. Here are some other guides to help you get to know your way around all our great features.