Blog
>
The Impact of Leveraging Your RFP Software Solutions
The Impact of Leveraging Your RFP Software Solutions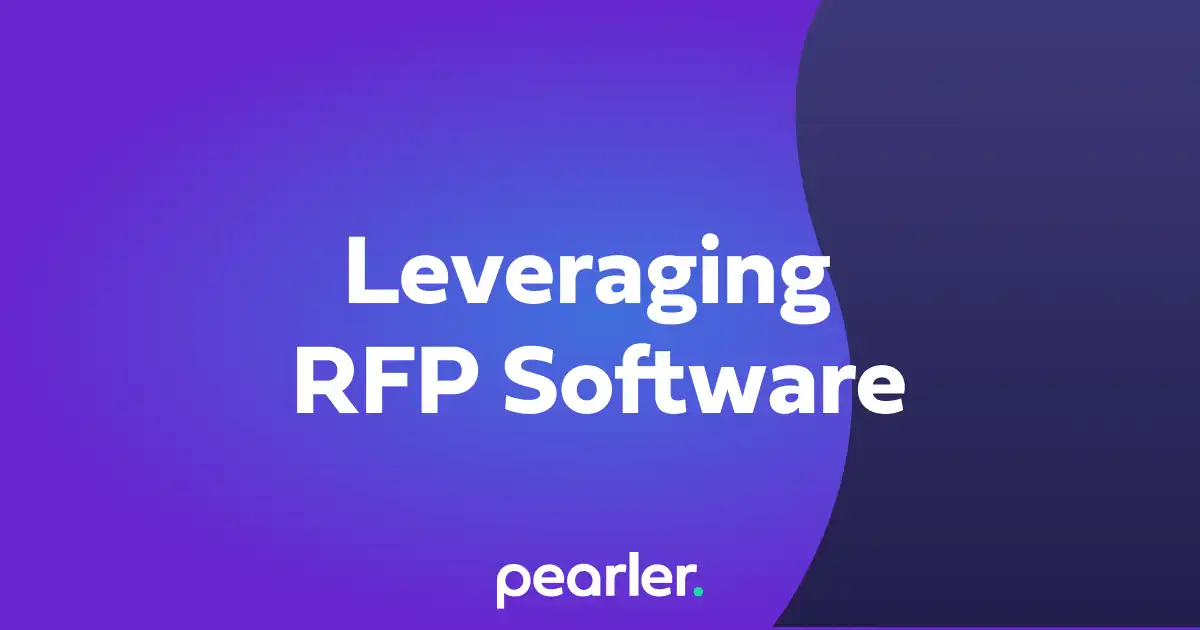 16th March 2023
Imagine organising a surprise party for a friend. One person is initially given the time and date, but you also want them to bring a particular kind of food. Then they inform someone else, but they unintentionally bring the wrong dish and mix up the date. The next individual is instructed to bring decorations, but they interpret the instructions incorrectly and bring the wrong kind. Because the information was not provided clearly and precisely from the start, by the time the party arrives, there is a mix of decorations and food that don't match. This serves as an example of the value of concise communication and the potential repercussions of misunderstanding.
An RFP might arrive in the recipient's email inbox in a variety of forms, including Word, Excel, PowerPoint, or even PDF. It is typical to distribute the RFP or its components to several groups of stakeholders, each of whom has specific knowledge and experience.
Without appropriate processes in place, it is possible for many different stakeholders to work on a single question or for a single subject matter expert (SME) to work on multiple request for proposals (RFPs), which can lead to contradictory answers and cause serious problems for procurement teams. Such discrepancies can be seen as a big warning indicator.
Without a centralised system in place, various contributors might lead to response delays and distortions. As a result, organising the scattered and inconsistent collection of responses into a logical and cohesive response may take the response manager a long time—from hours to even weeks.
The issues caused by incorporating various stakeholders can be resolved by implementing RFP software that is sophisticated enough to build a response process that is uniform, repeatable, and scalable. It is feasible to increase revenue in less time by looking at how RFP software might speed up the response process.
---
Taking Your RFP Game To The Next Level
It all starts with implementing RFP software. But before we dive in, let's make sure we're on the same page: what is RFP software anyway?
Consistency is a desirable quality in everything from garment sizing to sports officials. Therefore, why not also demand consistency in the RFP response process? Despite the fact that it may appear tedious, sticking to the same course of action will produce greater results, giving you more time to appreciate the unpredictable aspects of life outside of work.
While it would be ideal if RFPs arrived in a standard format, this is not always the case. This is why expediting the process and maintaining consistency, repeatability, and scalability depend on having an effective RFP response solution. Any RFP format can be converted into a response that is simple to navigate and consistently effective with the correct tool in place.
Even different materials can be integrated and combined into a single, user-friendly format that is readily available to all stakeholders using intelligent RFP software. Then, regardless of the RFP's original structure, stakeholders can submit their responses using the web portal, making it simple for project managers, authors, SMEs, and others to keep track of who said what, when it was said, and how to access it. This degree of accessibility and organisation is essential for upholding reliability and effectiveness throughout the response process.
The Content Library, which serves as the final authority for future reference, allows for the storage of responses as Q&A pairs after they have been submitted into the system. In addition, SMEs don't have to wait for the subsequent RFP to contribute important data to the Content Library. Instead of keeping their knowledge on paper or in their own brains, which is all too common, they have it centralised, where it can be easily accessed by anyone who needs it. This improves the consistency of the RFP response process and makes the team as a whole more knowledgeable and collaborative.
The sophisticated RFP software from Pearler.ai also functions as a full-featured project management platform, providing a number of practical features like role and responsibility assignment and tracking, review cycles, trend analysis, integrated collaboration tools, and seamless integration with the tools you use daily. With these tools at your disposal, your team will be able to collaborate more easily, which will result in quicker reaction times, higher-quality production, and ultimately, more success in securing new business.
Pearler.ai software is a dual-purpose solution that works as a capable project management tool and a versatile content management system. By utilising these tools, teams can respond to more pertinent bids in a shorter amount of time, increasing productivity and optimising workflows.
The use of Pearler.ai software fosters trust among SMEs and other stakeholders by giving them the assurance that their contributions won't be duplicated or wasted and that all crucial company knowledge is kept in a single, reliable repository, even though this effect may be harder to measure. This not only makes it possible for businesses to stay afloat but also gives them the ability to grow and develop through time.
---
Unlock the Power of RFPs: Key Features Your RFP Software Must Have
Technology for RFP responses should ideally contain functionality for managing both projects and material. Teams can function with just one of these characteristics, but the process is substantially more challenging.
Responses to RFPs may be difficult to manage without an automated and simple approach. However, depending entirely on a content database might result in the loss of context, making it difficult to adapt a response specifically to the RFP at hand or to determine where material is, where gaps exist, and where obsolete information is being pulled in.
When looking for RFP software, organisations should consider their unique needs and pain areas. It's critical to take future growth and change in these needs into account. We frequently encounter these typical pain points.
RFP answers frequently require organisations to spend too much time on them. The choice between the time-consuming chore of tracking down stakeholders and the simple task of clicking a few buttons can often be made by how convenient it is to have an updated and immediately accessible material collection.
Insufficient capacity for responding to RFPs is also an all too common challenge encountered. A low response capacity can result from trying to respond to every RFP you get. Similar to picking possible dates in the dating world, it's crucial to be picky. This can be helped by using an automated response method, which can speed up the procedure and allow you to prioritise which RFPs to respond to. Automation guarantees prompt, accurate, and persuasive responses, which can give your bid the edge it needs to stand out from the competitors.
Aside from low response capacity, an uncoordinated response process can be very demotivating for proposal teams and make them wonder what good their efforts are doing. With real-time updates on each proposal provided by Pearler.ai's project management tools, stakeholders can follow the process without difficulty. When someone gets stuck, others can quickly locate the problem and offer aid, boosting the confidence and spirit of the team.
Delivering inconsistent responses can also harm your company's reputation. Even in segregated organisations, RFP software streamlines diverse RFP formats, improves question retrieval, and promotes team cooperation. Additionally, RFP software sets standards and limitations, like character limits, to guarantee uniformity in the deliverables.
---
Why RFP Software is a Game-Changer
With the spread of remote employment opportunities and the COVID pandemic, a "distributed workforce" has become more common. However, organisations that have offices all over the world and manage several brands under one roof have been managing scattered workforces for a very long time.
Subject matter experts (SMEs) from different time zones must frequently cooperate to provide solutions, or a single SMEs may work on responses from a different location, including several brands that fall under the corporate umbrella.
The risk of discrepancies is decreased because of SMEs' ability to edit or add material to each RFP using Pearler.ai's response software. This tool allows SMEs from various locations and brands to easily collaborate in order to react to each RFP, which is especially useful when dealing with several versions of questions and responses. Pearler.ai offers a range of features including content management, which allows access with a single click to reliable and repeatable business data from a single source.
As you work with Pearler.ai, the software continuously picks up new information and suggests solutions, encouraging consistency. Additionally, it combines RFPs from diverse forms automatically into a single, readable, and standardised format. The user-based pricing model of Pearler.ai is a distinct approach that allows for greater scalability and collaboration. Pearler.ai's software is continually evolving to better meet your company's demands. Pearler.ai keeps pace with the best practices of the RFP industry, so you don't have to.
---
The Ultimate Solution for Seamless Collaboration and Increased Efficiency
Truth be told: RFP software, even the best choices like Pearler.ai, are not a magic bullet. It doesn't replace response teams. However, using cutting-edge RFP technology can significantly boost their productivity and efficiency, making team members and CFOs happier. RFP software must collaborate with response management teams rather than compete with them in order to bring true value. This involves enhancing collaboration for increased productivity. Improving collaboration is essential for effective RFP management, especially in companies with spread workforces, remote stakeholders, and SMEs. Constantly bugging people for responses is a waste of time. With Pearler.ai, each stakeholder has access to the platform whenever they want and can learn exactly what is expected of them.
Pearler.ai also features tools that improve productivity, including the ability to import RFPs from almost any format, including PDFs, Google Sheets, and Microsoft Suites.
With the help of Pearler.ai's project management tools, project managers may increase productivity, define roles and due dates, preserve the content of RFP responses, and manage and expand the Content Library.
---
Effortlessly Import Data with Streamlined Automation
By automatically transforming RFPs from different formats into information that is consistent and simple to collaborate on, Pearler.ai's powerful import tools streamline the RFP response process and save response teams important time that would otherwise be wasted on manual imports.
Since repeating oneself is one of the simplest methods to optimise your response process, consistency is essential in response management. This is due to the fact that, as indicated before, many questions are repetitions or variants of questions you've already seen.
A centralised repository, Pearler.ai's AI-powered content library makes sure all of your information is easily accessible. When a question is asked repeatedly, the Content Library will automatically recommend a pre-approved response. You can modify the response to suit your needs with only a click.
RFP response times can be sped up by using a knowledge management technology via establishing a searchable information hub, keeping reusable materials, customization made possible utilising past responses, and correctness of the material.
For response teams, Pearler.ai functions as a fantastic assistant. The AI-powered suggestion engine can help you whether you are stumped by a topic or do not have enough time to look through the database. It can automatically identify pertinent response material, swiftly offer responses to often asked repetitive questions, and even direct enquiries to the appropriate SMEs for a prompt response.
---
Fortifying Your Defences
With multi-level security upgrades, Pearler.ai uses top-notch security controls to protect an organisation's most valuable asset: its corporate knowledge.
Pearler.ai offers comprehensive security features to safeguard your company's valuable information. These features include Single Sign-On (SSO) for easy access, automated user management, and the ability to control access to information. With Pearler.ai, you can have peace of mind knowing that your sensitive information is secure.
The overarching goal is to boost corporate successes through effective RFP management. Response management teams can spend more time using Pearler.ai to create better responses for more RFPs. The idea is simple, but scalability, repeatability, and consistency are crucial. By reacting to appropriate opportunities with a consistent and repeatable strategy, utilising scalable replies in a searchable and easily collaborative manner, and using Pearler.ai, you can increase your odds of winning.
Increase your team's RFP response capacity with scalability. Your team can focus their resources on finding new business prospects by reducing the laborious manual processes.
Additionally, boosting the quality of your responses and maintaining consistency is also a smart move towards achieving your goal. Businesses must take care to minimise the risk of performing poorly at the proposal stage in a market that is highly competitive. RFP software ensures consistency and helps teams to deliver precisely tailored responses while exporting reliable deliverables by offering guaranteed accuracy.
---
Elevate Your Proposal Game with Pearler.Ai
A top-rated platform for handling answers, Pearler.ai, was painstakingly designed to increase RFP win rates and maximise revenue in a secure way. To learn more, get a free demo.
Looking for more help using Pearler? No problem. Here are some other guides to help you get to know your way around all our great features.