Blog
>
Essential Insights into the Request for Quote (RFQ) Processes
Essential Insights into the Request for Quote (RFQ) Processes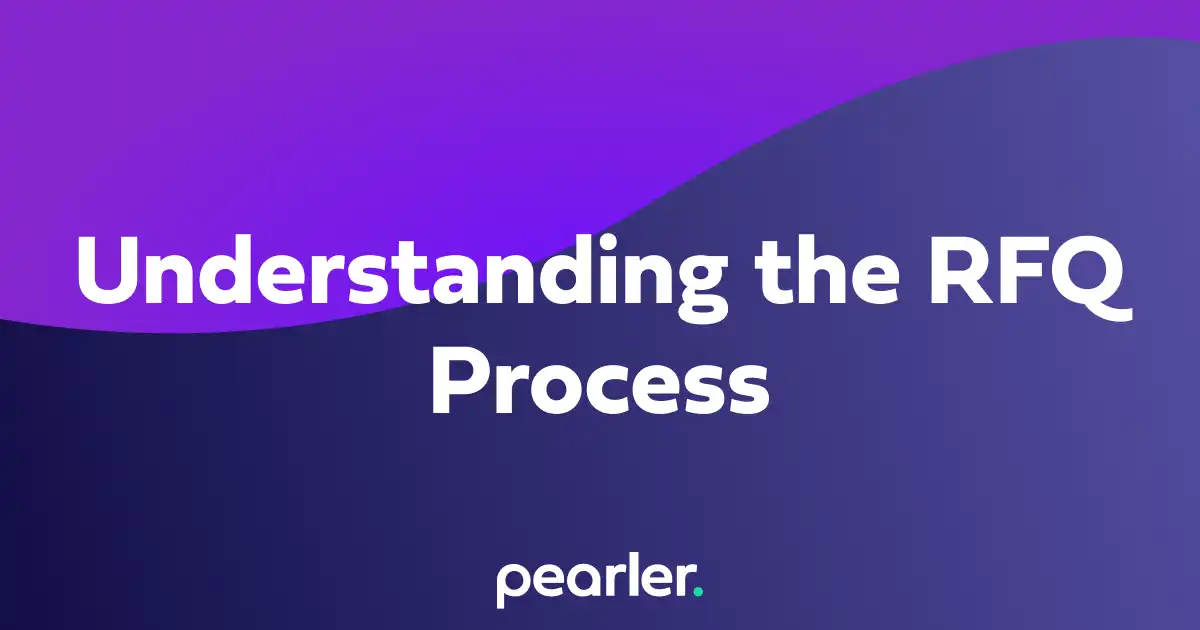 25th March 2023
Are you up for the task of replying to an RFQ that supports your company's goals? Without a doubt, it's a tempting prospect. After all, RFQs are frequently used for large-scale projects that have the potential to generate more money and improve profitability. But let's not forget the elephant in the room: how do you write a successful RFQ response?
When it comes to making significant purchases, whether it's buying a car or sourcing products for a business, it all starts with research. An organisation knows what they need, but they must conduct their due diligence first. Let's continue with our car analogy for a moment.
Businesses submit due diligence questionnaires (DDQs) to prospective vendors to assess their compliance and long-term viability, just as you examine manufacturers and individual dealerships. Similar to how a car's safety rating is determined, they also send out security questionnaires to determine security compliance. They issue requests for proposals (RFPs) to gather more specific information, asking whether the vehicle is in stock, how long it will take to obtain, why the dealership is the best option, and, of course, the price.
---
RFQs 101: Your Quick Guide to Big Business Wins
The invitation for bid (IFB), also known as an RFQ, is like the golden ticket to a successful business. It's a document that challenges suppliers to present their best work while providing the most reasonable rates and terms of payment. Businesses have the opportunity to demonstrate their value and demonstrate that they are the best choice for a specific project or service.
The person who issued the request for proposals probably did their homework and already has a preferred vendor in mind. However, they must make sure that this provider can accommodate their unique project and company requirements. Therefore, it's game on when vendors receive an RFQ! They must put up a proposal that highlights their qualifications and shows how they can satisfy the issuer's needs.
What happens then when the RFQ arrives at the vendor's door? So as soon as the timer starts, the vendor's response team goes into action. To create the ideal proposal, this team typically consists of a project manager, subject matter experts (SMEs), response writers, and editors. It's not as easy as just returning the RFQ in its current form, though. In order to obtain the precise information they require to make an informed purchasing choice, the issuer will have customised the RFQ. As a result, the vendor's response must be thorough and include information on the product or project's specifications, quantity, availability, delivery dates, and pricing.
Although responding to an RFQ might be challenging, businesses can succeed and win significant projects that can propel them forward with the appropriate plan and approach.
---
Bidding for Big Business: RFQ vs. RFP EXplained
Organisations have two primary alternatives when making procurement decisions: the general RFP and the detailed RFQ. An RFQ is a more focused method of getting estimates for specific deliverables than an all-inclusive RFP. This kind of request concentrates on technical, monetary, and legal information to assess a vendor's capacity to deliver the desired goods or services at a fair price.
Both RFPs and RFQs are usually sent after the procurement needs are well-defined.These documents are distributed to vendors by businesses in order to evaluate and contrast the goods, costs, and services. After receiving the proposals, purchasing organisations assess prices in order to negotiate the best deal or participate in electronic/reverse auctions.
An RFQ response is easier to complete than an RFP. The document should be thorough enough to show that the specifications and quantity requirements have been understood. RFP answers, on the other hand, might be trickier because they frequently involve a long list of enquiries regarding a vendor's costs, technology, security, background in the industry, and other things. In order to provide a competitive proposal in this situation, vendors must be ready to address every area of their business.
---
Getting More for Less: The Benefits of RFQs in Procurement
By ensuring that the RFQ format is consistent, sourcing businesses may quickly compare rates and offerings based on a clear grasp of the required specs and quantities for their desired product or service. This streamlined process allows buyers to save money and obtain the best possible value.
Furthermore, the ability to compare prices and quotes from numerous suppliers simplifies the selection process by enabling buyers to make informed decisions with a thorough understanding of their needs. Requests become more concise and precise, resulting in less time spent searching for the right supplier. This, in turn, makes it simpler to distinguish between vendors, allowing buyers to quickly and easily find the best supplier to meet their requirements.
The ability to compare vendors is also aided by the consistent use of language, uniform formatting, and generally standardised templates in RFQ responses. Sourcing companies may quickly evaluate and contrast the proposals from different suppliers, provided they have a clear and uniform grasp of the requirements and quantities for the product or service they need. This consistency not only makes processing speedier, but it also guarantees a fair and open evaluation process.
RFQ responses can be streamlined and made simple for both the buyer and the vendor to understand by using uniform language, structure, and templates. This makes the purchase process more effective for all parties involved by ensuring that vendors can deliver competitive quotes that fit the unique needs of the buyer's business or project.
---
The Key Characteristics of an Effective RFQ: When to Expect and How to Respond
RFQs are not always the best option, despite the fact that they can be an excellent procurement tool. An RFQ is typically appropriate in certain circumstances, such as when the client wants a standard good or service with minimal customization and the issuer doesn't need vendor support after delivery. An RFP, however, would be more appropriate if the client is searching for a more sophisticated product or service, like a specially designed software program. In these circumstances, cost is simply one of several factors to be taken into account, and a more comprehensive document is required to make sure all requirements are met.
It's crucial to take the individual project requirements into account while choosing the best procurement tool. An RFP is more thorough and includes detailed specifications for more complex projects, whereas an RFQ is more focused on gathering cost information and works best for conventional products or services. Selecting the proper procurement technique ensures that all needs are met, while also expediting the procurement process by identifying the project's scope and specifications.
---
Crafting a Winning Response to an RFQ
Vendors can increase their chances of winning an RFQ by knowing the RFQ's requirements and making use of response templates. Another important element that can improve the process's efficiency and boost its chances of success is automation. Vendors are better positioned to meet the buyer's needs and win the bid when they can streamline their responses and give reliable price and delivery information.
Almost all RFQs include information regarding the due date for submissions, submission guidelines, required format for responses, contact information, and any additional information vendors may need to speed up the bid evaluation process. It's crucial to fully comprehend the specifications listed in the RFQ and make use of any templates or automation tools offered if you want to improve your chances of winning the bid. Your response should also show that you have a solid grasp of the buyer's strategic objectives and the capacity to forge a lasting connection for further projects.
It's critical to consider whether it will be worth it for you to invest your time and effort before responding to an RFQ. While it may be tempting to answer every RFQ, it's best to pass if you are unable to offer a solution that satisfies the buyer's requirements. Consider aspects including if the RFQ is a suitable fit for your organisation, whether you have a comprehensive solution that addresses all of the issues raised, and whether your price is in line with the budget when deciding whether or not to respond.
After deciding that your company is a good match for an RFQ, it's crucial to provide an executive summary that demonstrates your knowledge of the project's specifications. This introduction, which is frequently the first item on a quote template, should give the issuer a general summary of your organisation and its overarching business goals, in addition to any other details they may require in order to comprehend your proposal. An executive summary can improve your chances of winning the bid by setting the tone for the remainder of your response.
Thankfully, technology can simplify this work. For each RFQ or RFx, you won't have to spend time and effort producing an executive summary from the start because Pearler.ai, for instance, uses machine learning to automatically populate it, with your approval.
It's also crucial to standardise your pricing when responding to an RFQ to ensure consistency and make it simple for the issuer to compare offers. It can be more efficient to use a pricing template that has columns for the proposed price, the details of the good or service, and the quantity information. The objective is to have all the relevant information in a uniform manner to enable an accurate comparison of bids, but it's crucial to note that templates may change depending on the product and RFQ.
Utilising a platform like Pearler.ai has the added advantage of allowing users to develop custom templates, which further streamlines the response process. It also comes with built-in configurable branded templates.
Using templates for your RFQ responses lets you provide specific and detailed information, while also ensuring uniformity in your pricing and product/service specifics. This is essential, since failing to provide sufficient details in your response may result in misconceptions and jeopardise the agreement. It might also give rise to legal problems for misrepresentation. As a result, using templates to account for all relevant requirements can aid in reducing these risks and enabling you to deliver a more useful and precise response.
It's crucial to remember that most businesses demand bid fees from vendors when they respond to an RFQ. This is done to guarantee that vendors have a stake in the procedure and that the selection process is open and honest. Normally, during the RFQ process, the funds are held in escrow, and if the vendor is given the contract, the payment schedule will take the fee into account. The remaining funds held in escrow will be given back to the vendor if they are unsuccessful in winning the contract. Vendors can make sure they are ready to meet the requirements of the RFQ process by understanding the contract and fee structure.
---
The All-in-One Solution for Winning Bids
The ultimate purpose of responding to RFQs is to close the contract with a happy customer. An all-in-one collaboration software, such as Pearler.ai, can assist you in achieving this goal as well as others. Our RFQ software offers specialised templates and automated response capabilities that can help you gain more business whether you're selling automobiles, widgets, or services.
You may streamline your response procedure, guarantee thorough responses, and differentiate yourself from the competition with Pearler.ai. Don't let manual procedures and unorganised data prevent you from achieving achievement.
Let's talk to find out more about how Pearler.ai may assist you in expanding your business and closing more deals.
Looking for more help using Pearler? No problem. Here are some other guides to help you get to know your way around all our great features.