Blog
>
How to respond to Security Questionnaires
How to respond to Security Questionnaires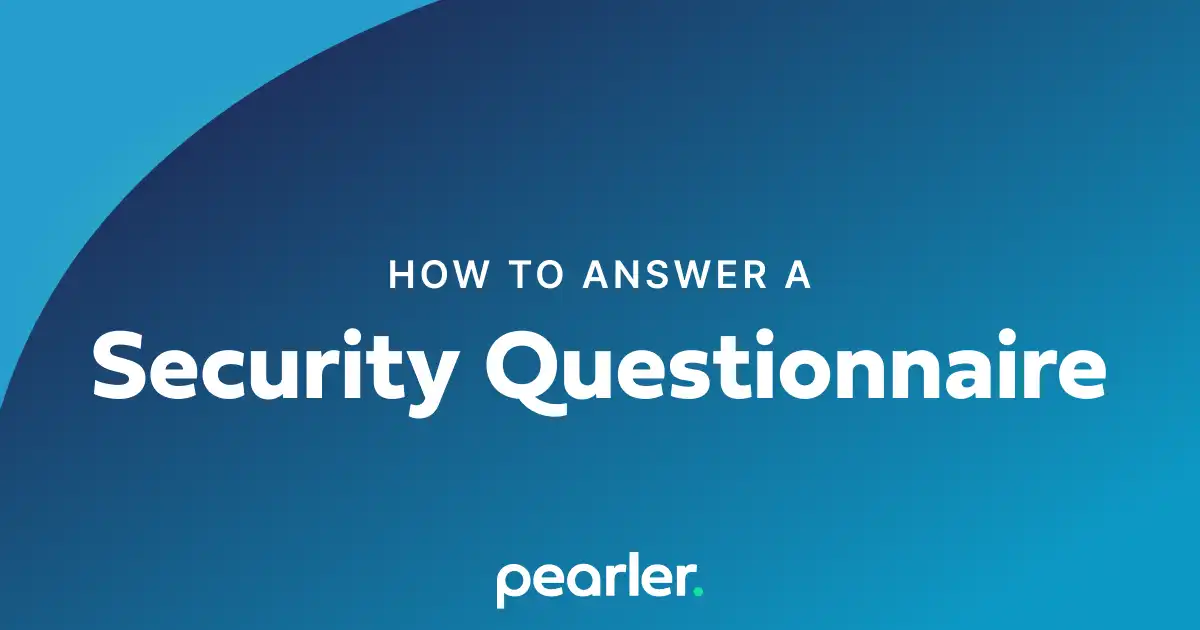 16th March 2023
How To Respond To A Security Questionnaire
Most of us often overlook emails reminding us to regularly change our passwords in order to avoid security breaches. Although it's very easy to ignore these types of messages, the fact of the matter is that data breaches are very common. From individuals to companies and even government organisations, no one is safe.
According to Identity Theft Resource Center, over 1,863 data compromises were reported in 2021, a record breaking all-time high.
In a data breach report by IBM, the average cost of a data breach in 2022 has reached a record high $4.35 million. This takes into account factors from legal, regulatory and technical activities, loss of brand equity, customer turnover, and drain on employee productivity. Unfortunately, much of the cost is on customers, despite having their own sensitive data compromised.
This proves that, should you fail to pay proper attention to detail, even the most minute vulnerability can cause a significant data breach. Opportunely, the fast rising numbers have entered the radar of many businesses that have made cyber security their number one priority. This move does not only ensure that sensitive information remains secure, saving money in the process, but also effectively establishes credibility and strengthens trust. For companies that don't see the urgency behind this problem, recovery may not even be an option anymore.
51% of organisations have experienced data breach caused by a third-party. This was revealed in a report released by SecureLink and Ponemon Institute that discovered that this particular issue was the result of organisations refusing to take the necessary steps in reducing third-party remote access risk, which leaves their networks unprotected to security non-compliance risks. As a result, 44% of organisations have experienced a breach, with 74% saying it was the result of giving too much privileged access to third-parties.
The help of tech stacks have long been deployed by companies in order to have leverage when it comes to the protection and security of employees, sensitive data, and infrastructure from threats. It is composed of layers that deliver services and exchange information to achieve a higher level service. Each of the layers come with a particular feature that increases the chances of malefactors sneaking through one of the layers of third-party applications. This should prompt you to evaluate the vendor's security protocols, just like how you would scrutinise your own.
The most common way of effectively vetting vendors is through security questionnaires. Despite how common these security questionnaires are, most people still do not truly understand what they are for and how to correctly respond to them. More importantly, the responsibility lies heavy on you, as a vendor, to be able to instil trust.
---
What is a security questionnaire?
You probably have encountered security questionnaires more times than you can count and might have a pretty good idea of what they're for, but to add to your understanding, security questionnaires are lists of often complex and technical questions designed to determine a company's security and legal requirements.
---
DDQ and security questionnaire are similar but not the same
It is often very easy to confuse DDQs or Due Diligence Questionnaires, and security questionnaires. For one, both are issued to assess a company's compliance with the issuer's regulations and security requirements. Neither of the two are also conclusively part of a sales cycle, granted that both may be released prior to striking a contract. DDQs and security questionnaires might also be given out before an organisation even starts buying in order to eliminate companies that aren't compliant before or during the buying process.
However, DDQs and security questionnaires are more different than they are alike. To begin with, DDQs are more likely encountered if you are in a financial segment. This type of questionnaire may ask about business plans, profits and losses, revenue and even policies on cybersecurity. DDQs are notably broader in scope as compared to a security questionnaire.
On the other hand, a security questionnaire is more straightforward and can be issued from any segment to any organisation, although primarily to tech companies. While DDQs ask broad questions about processes, often in narrative form, a security questionnaire entails providing evidence of compliance.
Typically, both DDQ and security questionnaires are released before an RFP is obtained. The DDQ usually comes first and once the requirements of the issue are met, the satisfied issuer will be expected to send a security questionnaire.
A security questionnaire may be the final step before closing a deal in some instances after an RFP.
---
Preparing for a security questionnaire response
Security questionnaires typically arrive through a CRM or the response manager. SMEs can come from IT, risk management, sales engineering, accounting, information security, operations, and even human resources, because the majority of questions revolve around cybersecurity.
With a security questionnaire, the response turnaround time is typically shorter than with an RFx. Within days, the issuer might require it.
---
Anatomy of a security questionnaire
A security questionnaire is not limited to a single type. As a matter of fact, there are so many types of security questionnaires that it may be impossible to mention all of them, but regardless of the distinction between these types, generally, these questionnaires assess different kinds of policies and processes, such as Network security, Business continuity in information security, Datacenter and physical security, Web application security, and Infrastructure security. Security questionnaires also evaluate Security audits and penetration testing, Personnel policies, hiring methods and instructional courses, Security certifications, and SLAs and uptime vs. downtime.
As stated above, there are many types of security questionnaires to list, but there are a few that are often encountered, which include:
Vendor Security Assessment Questionnaire (VSAQ)
Designed to assist your company in identifying potential flaws in its partners and third-party vendors.

National Institute of Standards and Technology Questionnaire (NIST 800-171)
Establishes guidelines for protecting confidential data on the IT networks and systems used by federal contractors.

Centre for Internet Security Questionnaire (CIS Controls)
A prioritised set of safeguards to protect systems and networks from the most common cyberattacks.

Vendor Security Alliance Questionnaire (VSA)
Designed to streamline vendor security assessments in order to assist businesses in improving their vendor risk management program.

Standardised Information Gathering Questionnaires (Security Questionnaires and Security Questionnaires Lite)
Allows businesses to create, personalise, analyse, and store vendor assessments for risk management from third parties.
---
Responding to security questions with the help of Pearler.ai
Responding to RFx or even DDQs is an easier endeavour if you happen to be a response manager. Answering questions lets you be a little creative because it is essentially creating a story explaining why your business is a great match for the issuer.
As it happens, narratives are not required on security questionnaires. As required by law, they must be absolute and straightforward with the utmost accuracy, leaving no room for errors. Fortunately, having to deal with these things is not as scary as you might think. We'll tread the steps carefully and you will be a 'master responder' in no time.
Before anything else, you must remember to find all of the materials that are available. It is very likely that you have responded to similar questions previously, so better to look in the database for answers you have already provided. Remember that, despite the undeniable complexity and bulk, there is a lot of repetition in security questionnaires.
Issuers frequently send a generic questionnaire rather than modifying it for each product. Get rid of any questions that aren't relevant to your product. Don't be afraid to ask the issuer for clarification about any questions that you think are unclear or unnecessary.
To effectively locate all the materials you will be needing, pre-assemble a centralised Content Library. Promote efficiency by storing all of your previous security questionnaires and documentation in one location that can be accessed by any authorised user. The most advanced AI-powered prebuilt Content Library is included in Pearler.ai.
Once you have your Content Library set, mind that you should only respond to the matching responses that already exist. If you were always told that copying off someone's work is bad, well it is, but not necessarily in response management. Utilise the pre-existing matching responses found in your database whenever possible to achieve maximum efficiency.
And while we are on the topic of maximum efficiency, up to 80% of your tasks can be done for you by setting up system-guided identification of sections and questions. Machine learning is used by Pearler.ai's import capabilities, to find matching responses automatically without manually initiating the process every time.
After sections and questions have been identified by the system, collaborate with SMEs to group all unanswered questions together. To finish the process, you will need to work with SMEs once you have located all of the relevant existing content. Organise all of your unanswered questions for the SME and provide them with timelines.
Take automation a step further and utilise AI to automate your response. The auto-respond feature and recommendation engine in Pearler.ai locates existing documents and content that are comparable, but not specifically matching, for review by SMEs. Additionally, once SMEs are aware of Pearler.ai's time-saving capabilities, trust will be established and calls for help in the future will likely be answered.
Consistency is key so make sure to continue looking into the status of responses. Check to see that everyone on the team has finished their part on time. This can also be automated because Pearler.ai can make collaboration easier with project management tools. To guarantee that the questionnaire will be ready on time, the Project Module of Pearler.ai provides real-time reporting as well as reminders.
After all the questions have been answered, it's time to compile the questionnaire and complete it by assembling the responses and then exporting them to the original document. For many companies, this simple process can still take hours and even days to finish because they still observe manual processing. Luckily, Pearler.ai allows exporting to the file's source. This eliminates the unnecessary manual labour and can export all of the questions in a matter of seconds.
---
Overcoming drawbacks with security questionnaire responses
Security questionnaires have the tendency to be frequently delayed because there is no direct connection between them and revenue generation. Unfortunately, there are even more hurdles the response team must deal with, which would explain the reluctance on their part.
The scope is a huge factor because there may be hundreds or even thousands of questions on a security questionnaire, so it will undoubtedly get a little too discouraging if the responses are not yet prepared.
Another important factor is deadlines. Issuers may send the security questionnaire expecting a turnaround almost immediately but in other situations the questionnaires may become stuck in an internal limbo. However, your work will be more efficient if you have most of the answers prepared, cutting down your response time significantly.
Collaboration with SMEs also has its own challenges because they already have their own priorities. Understandably, they probably won't put the security survey at the highest point of their schedule. By completing as much of the questionnaire as you can, you can demonstrate to them that you value their time.
No matter how prepared you are, there will be times that you will lack certain protocols and certifications. Keep in mind that most companies will not have the option to address each question approvingly so submit what you have and consider this to be a chance to rethink where your company stands on this matter.
By default, security questionnaires are already jargon-heavy, so there is a huge possibility that if you don't know what they are asking, you might not be able to answer correctly. The excessive jargon issue can be solvable with the help of SMEs, as well as a well-organised, jargon-searchable Content Library.
Having all of the information you need is not entirely effective if all the information remains dispersed. Instead of working more efficiently, this hurdle will instead be more time-consuming. It would be a smart choice to upload all of your certificates, documents, and Q&A pairs to a single point of truth that can be accessed by any authorised stakeholder.
---
Pointers on what to prioritise for the response process
Speed may be your top priority in the face of a seemingly endless inbox and a calendar full of meetings. Even so, never lose sight of the fact that security questionnaires are legal documents, so accuracy is the most important factor. Thankfully, response software with built-in content management makes both of these things possible.
There are a number of tools in Pearler.ai that can streamline the progress of your work.This includes capabilities for import and export, which can keep you away from a formatting that is in complete disarray by bringing security surveys solidly into your modified layout for consistency, making every partner's work substantially more attainable. The completed questionnaire can then be uploaded to your personalised response template or directly to the original document.
There are working setups where people work on different floors, different buildings, and even across the world working in the comfort of their homes. In order to resolve this issue, Pearler.ai offers a task management system that enables you to virtually assemble your dispersed stakeholders and monitor progress without pursuing individuals.
Don't stop at the digitisation of your task management, take full advantage of Pearler.ai's automated content management. Pearler.ai offers an AI-powered Content Library feature that does the heavylift for you. If Santa Claus has helper elves in his world-famous workshop, we also have our own in the form of a recommendation engine. They will look through previous responses after you upload the questionnaire. That only leaves you with the task of accepting, editing, or rejecting with little to no editing on security questionnaires, because many are simple yes/no questions. All your previous and future responses will be stored in a Content Library, which will give you the liberty to organise content however you want. The Content Library also comes with a single source of truth that will get rid of unnecessary silos, storing all of your company's documents and knowledge in one location. Your physical location won't be an issue either, because Pearler.ai allows you to access the Content Library from any location across the world.
Since the Content Library is essentially your gold mine, regularly consult with sales engineers and other individuals who are responsible for responding to security questionnaires to ensure that your Content Library is constantly improved. Ask their expert opinion on categorising and tagging more efficiently.
A key factor in maintaining an effective Content Library is keeping the information updated. As mentioned quite a few times above, security questionnaires are legal documents, therefore accuracy and updated information need to be upheld. Pearler.ai has the functionality to remind you to clear out all the redundant, obsolete, and trivial information or appropriately dubbed ROT. Additionally, this feature does not only remind but actually helps you locate all the ROT as well.
---
Automated co-pilot for security questionnaire responses
Using cutting-edge collaboration software for security questionnaires is one method to set your business apart from your rivals. Many businesses still rely on human responses, which are time-consuming and ineffective.
Save your team's time through response softwares such as Pearler.ai that helps you stay steady on the good side of SMEs by giving each security questionnaire the necessary depth and attention to remain compliant.
There are a lot of benefits that can be gained from automation. Those involved in assisting with security questionnaire responses can save up to 20 hours per week.
The lessening of workload brought on by automation boosts morale, and decreases the risk of employee burnout. In a Zapier survey about The Great Resignation, it was discovered that automation makes employees less likely to quit. The integration of automation in the job increases the employee's flexibility at work, which may be one reason they are less likely to want to leave their current position.
---
Pearler.ai: your response co-pilot.
Start receiving security questionnaires like a kid on Christmas day with Pearler.ai. Take a step back from manual heavy lifting and let our software save you time with accurate completed responses. You get to take a breather and get to keep your SMEs happy.
Start using Pearler for free today.
Looking for more help using Pearler? No problem. Here are some other guides to help you get to know your way around all our great features.