Blog
>
How to respond to an RFP
How to respond to an RFP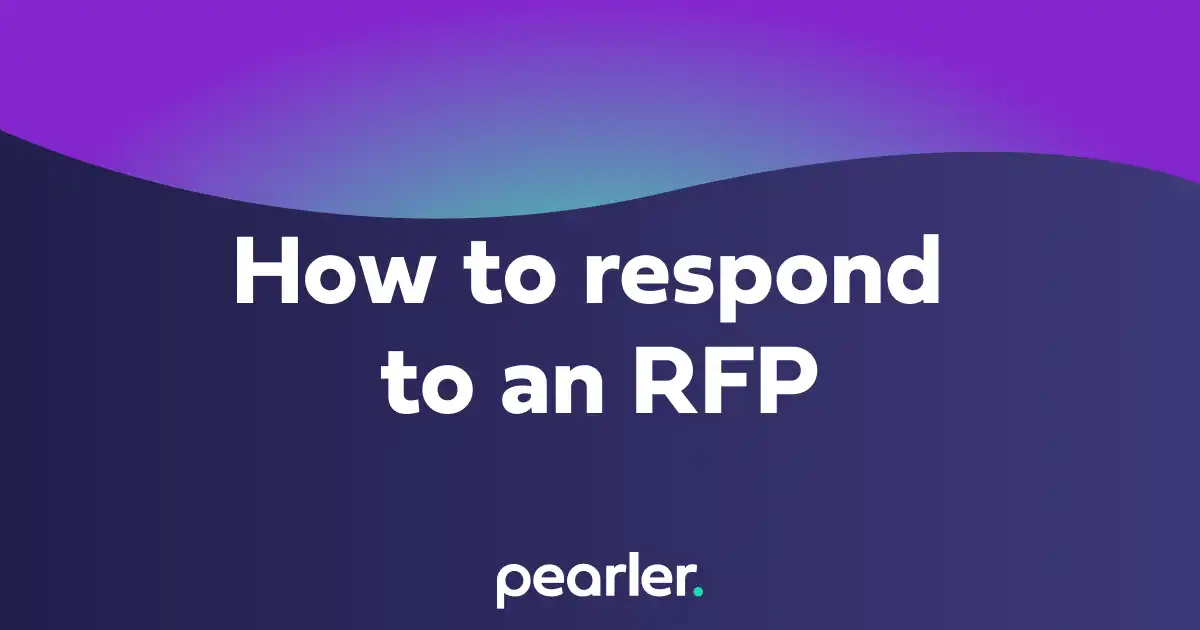 16th March 2023
Responding To An RFP Process From Zero To Hero
According to Paul Burek in a conference paper published in 2009, he described RFP "...as [a] process [that] provides a mechanism for organisations to acquire better products and services for their project solutions than they might otherwise be able to provide from internally developed project solutions." In other words, organisations publish requests for proposals (RFPs) when they have a significant, expensive demand that cannot be met internally. This isn't a clog that needs to be cleared. This is the process of requesting quotes from various contractors to complete remodels or build substantial expansions.
---
It Can Be An Uphill Battle
Dealing with the RFP process is a conflict you have to constantly deal with. If fairytales have fire-breathing dragons, evil giants, and vicious trolls, the huge scale of an RFP can be just as concerning. Up to tens of thousands of enquiries and requests for particular material can be found in RFPs. If your business has an answer to the issue raised by the issuer, you react with a proposal that has all the details and information requested. It could take you hours, days, or weeks to create a response, depending on how big the RFP is. Your response will be taken into consideration if you submit your finished RFP response by the due date.
You do not necessarily have to be a fan of competitions but if you don't have the patience and stamina for constant battling, then you might not survive the journey because competition is relentless. The issuer compares your RFP response with each and every other RFP response that it has gotten from your rivals. Cheapest price doesn't always win, it is a tempting offer for sure, but sometimes the best answer will prevail. There are times that the issuer may surprise you and would go for both, and sometimes, more unexpectedly would go for neither.
The pen may be mightier than the sword, but in the RFP response process, paperwork will only get you so far. The best pitch, which is an all-encompassing word that encompasses the RFP answer, relationships formed with sales and subject matter experts (SMEs) during the process, pricing, reputation, and a range of other variables, usually determines the winner. Then there are the instances in which winners are decided on the basis of previous or current ties between the two organisations.
In order to have a possibility of winning an RFP, regardless of the component that makes the difference, you must write an RFP answer. Why not go the distance?
---
Responding To An RFP Like A Champ
In order to achieve success, and ultimately your happy ending, you must do well to remember that the RFP response process is not linear; it is cyclical. There are practices you must observe in order to submit a proposal.
Before anything else, it is best to ask yourself, is it worthwhile to pursue this? Confirm the offer because writing an RFP answer might take weeks. Beginning with a go/no-go checkpoint gives you the chance to assess how well your solution stacks up; the project's financial viability, the availability of the resources you'll need to submit a response by the deadline, and any other factors that will have an impact on your business during the response process. Creating a proposal is essentially like making an investment in your future. Each investment needs to be carefully examined.
Recognition is one thing, but comprehension is another. You must understand the demands you were able to enumerate. It is critical to ask what is required for completion? This covers a wide range of topics, including the kind of material that is produced, who develops the content, and who is in charge of approving the final proposal. The list may be rather long, but it must be exhaustive to ensure that nothing is missed.
Since the journey you are about to partake in is long and arduous, it would be smart to respond to the usual questions. In order to fill in the blanks on frequently asked questions, use your content library. Before submitting anything, make sure it has been vetted by a subject matter expert, if necessary. But that begs the question; whose skill is required to complete this? Collaborators. Set due dates and responsibilities for core collaborators. This way you'll list all the milestones after deciding on the requirements. For several collaborators, there will be due dates for contributions, reviews, modifications, and approvals. The secret is to keep the process moving while still respecting everyone's time.
The ensuing approval of the contents needs to be signed off so make sure to assign questions for approval and evaluation.This step isn't exactly a walk in the park, it's more than just scrolling through. As a matter of fact, several approvers will have to sign off on content pertaining to sales, product, support, legal, branding, etc.
The journey to properly responding to an RFP process isn't the only story, but your actual response must also tell a story, and most importantly, must tell the story you want to tell. You can really hit the competitive differentiation here. This may fall on writing and design experts on your specialised proposal team, if you are fortunate enough to have one. Someone who examines everything your company produces for external audiences could be from branding or marketing. Make sure your proposal is presented in a clear, readable manner. Better yet, include it into a template that is branded.
Finally, hit that send button with no regrets. As long as you took to heart everything that was mentioned above, you have nothing to fear.
---
A Champ's Guidelines In Responding To RFPs
Following the reminders mentioned above is the warm-up. Now that you are in the actual battle, the strategy must be shared with the rest of the team because the most important thing is that everyone in the organisation understands they have a stake in the outcome of the project, regardless of whether you have a dedicated team of stakeholders from each department or you create a new team for each project.
Revenue is what determines whether a company expands, contracts, or increases the percentage it matches for retirement funds the next year. RFP wins, proactive sales pitches, and quick return on surveys all contribute to revenue.
With that being said, create the ideal team. The proposal team is led by proposal managers. Proposal managers may imagine themselves to be the commander in battle that are knowledgeable, experienced, and disciplined. The rest of the team will also have crucial tasks like the SMEs. Several RFP questions call for in-depth responses, therefore for those you should consult the experts in that particular field.
Teams that interact with customers are on top of market trends and client demands which is why customer and prospect interaction must also be secured. Brand messaging should also be a task to be properly delegated because you have to make sure that the response you will be sending out will be checked with marketing to make sure it is consistent with your brand. Additionally, IT support in your team will ensure that the issuer's needs are met.
Believe it or not, this is not even a complete team yet. You can add as much essential manpower as you want in order to create a successful proposal. For the purpose of developing a top-notch response, even a one-person proposal department requires assistance from internal or external SMEs.
---
Choose Your Battles Wisely
Reserve your time for the important things rather than fighting every issue. Include a go/no-go checkpoint as part of your bid qualification at the start of your RFP response process to guarantee that you only reply to RFPs you can win. Whether it's a checklist or a scheduled team meeting, you must respond to questions like:
Is the RFP a good fit for your business and your solution?
Do your prices fit the allocated spending?
Do you currently or previously work with the issuing company?
Do you have a thorough response that takes care of every issue raised in the request?
Do you know the rationale for the RFP's issuance?
Can you submit your work by the due date?
The go/no-go step, as well as your function as a proposal manager, will be validated if you base your responses on statistics rather than anecdotal evidence. The data are provided by Pearler.ai's AI-powered analytics tools.
In this battle, you cannot win alone. You must work with your team effectively and that can only be achieved if there is respect, especially for their time. You must respect the time of SMEs and other stakeholders if you want them to feel a sense of ownership for the proposal's obligations. If contributors are forced to work on weekends and beyond business hours in order to meet deadlines, RFP answers will suffer. Obtain their agreement in advance on deadlines and the amount of time needed for assessments and approvals.
Your team will remain anchored throughout the most challenging circumstances if you have a documented RFP response process. RFP software will make it simpler to automate, carry out, and monitor processes from beginning to end on numerous projects operating concurrently, but you still need to take responsibility for the process. This will allow you to perform a win/loss analysis. Your team will have the chance to complete the loop during the win-loss evaluation. Consider internally what worked and what didn't. Involve all members of the proposal team in a wrap-up report, but go above and beyond to collaborate closely with sales enablement so they may include the client perspective.
In this battle you have weapons, so you may as well use them to do most of the work: allow technology to handle the labour-intensive tasks. The win/loss analysis will guide your new go/no-go decision, improving your ability to forecast which RFPs you can truly win. Because everything related to the response; the planning, communication, content, and actual response, is in one place using RFP software, applying it to a win-loss review is advantageous.
The most efficient means of overcoming a shortage of time, expertise, or other resources is software. That makes a difference and will enable you to answer with authority. Just 43% of businesses are employing RFP-specific technology, therefore there is a big window of opportunity for you to get an advantage over rivals.
---
Pearler is on your side
Using the power of technology and working together with a larger team is made simpler by Pearler.ai software. You can speed through the first pass of a response more quickly using automated processes for scheduling, collaborating, and finishing large swathes of enormous RFPs using our sector-leading Content Library, than working without RFP software or with less sophisticated software solutions. By doing this, you free up more time to devote to distinguishing yourself from the competition and customising the responses that truly count. And we're only getting started!
Hold your horses, champ! Before you go off and fight your own battles remember to:
Confirm the offer; verify data from similar RFPs in the past. Without RFP software, what takes weeks might simply take hours. Is this RFP attainable, all other factors being equal?
Understand the demands; Based on what is left after the automated first pass performed upon intake by your Content Library, let the tool construct a checklist of open items.
Respond to the usual questions; The Pearler.ai technology compiles all of your prior Q&A pairs into a specialised Content Library, allowing you to quickly and automatically react to questions that have already been answered.
Set due dates and responsibilities for core collaborators; The project dashboard in Pearler.ai allows you to task each RFP question or part to a specific collaborator. Then, from their current workplace, they'll get a notification (e.g., email, Slack, or Teams).
Assign questions for approval and evaluation; With automatic cues and reminders across many platforms, the review and approval process can be made simpler.
Make sure your proposal is presented in a clear, readable manner; Work within a branded template, starting at input, and help boost responses with approved, up-to-date content according to the SME responsible for that particular content. Working with content that has already been authorised will cut down on the amount of proofreading you have to do.
Send; Push send using your integrated CRM or Pearler.ai!
In a Proposal Management Benchmark Study we recently published, or a battle strategy if you will, we discovered that companies utilising RFP software already managed 43% more RFPs than those who did not. Get traction quicker using RFP software if you want to respond to RFPs faster than the competition.
Some of the attributes we were able to identify include recommendations such as:
Granting salesmen and SMEs recognition at quarterly meetings. Marketers are competitive and enjoy receiving awards.
Establishing official RFP kickoff meetings. To get started right away, make them brief and include pre-reading resources in the invitation. This is combined by some organisations with a go/no-go checkpoint.
Conducting daily standup calls or meetings for 15 minutes as the RFP deadline draws closer. Pay attention to status updates and action items.
Setting aside time for professional development. Join the response management Slack community, LinkedIn groups, or establish a connection with a Procurement Management professional.
This is roughly just a page in the book, a trivial move from the entire battle plan, but if this has inspired you to dive deeper into RFP software, schedule a demo with the team from Pearler.ai!
Looking for more help using Pearler? No problem. Here are some other guides to help you get to know your way around all our great features.