Blog
>
Navigating RFPs: How to Find and Win Opportunities
Navigating RFPs: How to Find and Win Opportunities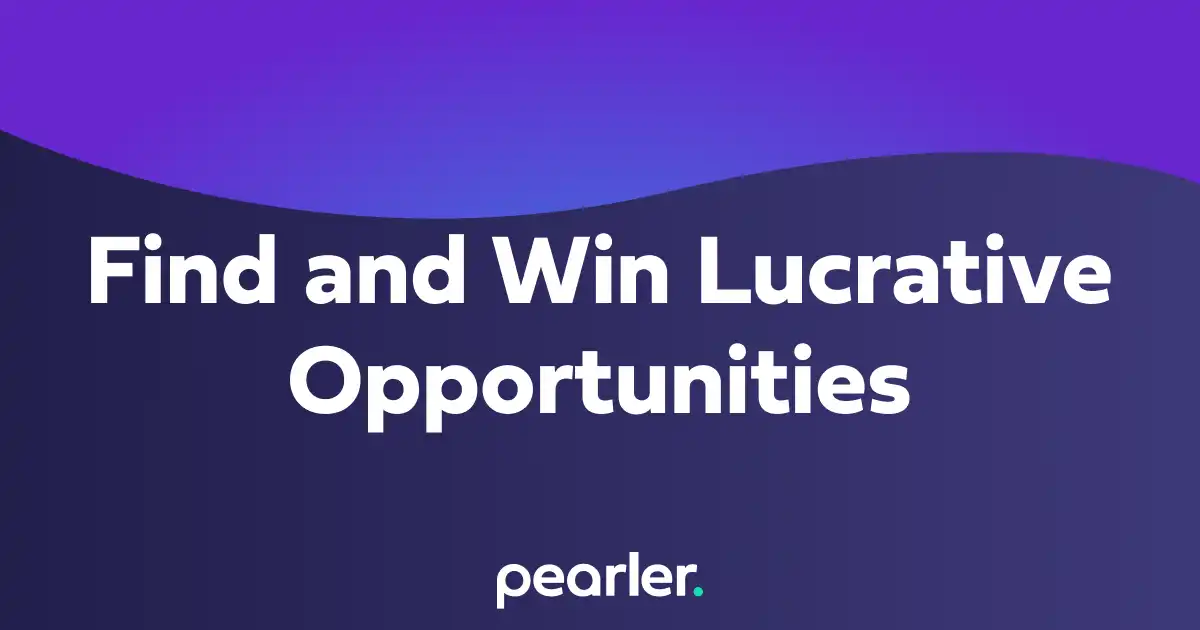 3rd April 2023
RFPs award billions in contracts yearly, making it an essential part of any effective sales strategy. But finding the right RFPs can be tricky. Don't worry! This post is your ultimate guide to navigating the RFP world and increasing your chances of winning. We'll cover the basics, including different types of RFPs and where to find them online. Plus, we'll share top databases, advice on closed RFP invitations, and tips to improve your chances of getting more RFPs. Whether you're a corporate analyst, middle manager, or small business owner, this article will help you win those RFPs and boost revenue. Let's dive in!
---
Unlocking RFP Key Definitions and Terminologies
We need to first grasp the fundamentals in order to properly open the world of RFPs. We'll examine the meaning of the RFP and address some frequently asked issues in this glossary of essential terms. We'll also go into some of the many kinds of RFPs you can see, giving you the skills you need to successfully negotiate the RFP environment. This guide is for you whether you're an experienced corporate analyst, a middle manager, or the owner of a small to medium-sized business. So let's get our RFP journey started by laying the groundwork.
If you're new to the RFP game, it's important to start with the basics. An RFP, which stands for request for proposal, is a document used to solicit information from potential vendors. It typically contains a set of standardised RFP questions that help buyers gather important information and compare potential suppliers to select the best one for their project.
So why do companies use RFPs? The process helps to organise complex procurement projects, improve objectivity in supplier selection, and reduce vendor risk. By doing so, buyers can ultimately reduce the overall cost of procurement and create long-term, mutually beneficial partnerships.
It's worth noting that many private companies require bids from at least three potential suppliers before making a purchase, while government agencies at all levels must issue RFPs publicly to make sure that contract awarding is transparent and equitable. As a result, open government RFPs can often be found online. Whether you're a private company, non-profit organisation, or government agency, RFPs are an essential part of any procurement strategy. Knowing the key definitions and terminologies associated with RFPs will help you navigate the process with ease and maximise your chances of success.
---
Cracking the Two Types of RFP
When it comes to responding to RFPs, it's important to understand the different types of RFPs that exist. One such type is the open RFP or public RFP, which is available for anyone to respond to. While some private organisations may issue open RFPs, government agencies are the most common issuers of this type of RFP.
In fact, government agencies, including federal, state, and city agencies, use the RFP process for most of their procurement needs. Government RFPs are subject to complex regulations that ensure a fair, auditable, objective, and transparent vendor selection.
Schools and universities also issue RFPs, which are similar to government RFPs in many ways. Schools and universities frequently adhere to procurement rules that are substantially comparable to government policies, since they receive some public support. These education RFPs can be found on school district and university websites and present great opportunities for vendors.
Open RFPs receive many responses, but each one must be assessed to find the best match for the procurement team's needs. While government contracts are often valuable, open RFPs can be unappealing due to their competitiveness and time-consuming nature. A strong bid or no-bid process is necessary to weigh the pros and cons of responding to open RFPs versus pursuing education RFP opportunities.
On the other hand, private organisations regularly employ closed RFPs, also known as invitation-only RFPs, to evaluate and choose contractors. Market research is carried out by the issuing organisation or consultant, who then chooses a set of vendors and privately sends them an RFP encouraging them to submit a bid. Vendors may be chosen based on information obtained via an information request, a request for qualifications, a reputation, a field of speciality, or experience.
Many businesses release RFPs to assess potential suppliers and make sure their current suppliers are providing the best value. Closed RFPs typically give greater weight to considerations than pricing, such as identifying potential partners, the most qualified vendors, or those who can provide the most return on investment. Private businesses frequently decide to create closed RFPs since they are not subject to the same level of regulation as public organisations.
Closed RFPs can also be managed by consultants or brokers for high-stakes and specialised procurement projects. These professionals work with key stakeholders to gather requirements, provide expert advice, develop the RFP, select vendors, manage communications, evaluate responses, and make recommendations to the client. For example, a corporation may hire a consultant for a challenging procurement project, such as a new IT network, employee benefits, or corporate insurance. These consultant-managed RFPs are an effective way to identify the best vendor matches for the client.
The advantages and disadvantages of closed RFPs must be considered in order to fully comprehend the two forms of RFPs. Closed RFPs, also known as invitation-only or private RFPs, are used by private organisations to evaluate a select group of suppliers.
Closed RFPs restrict the number of offers a buyer receives, which makes competition simpler and the RFP timeframe speedier. Open RFPs, on the other hand, might invite a big number of answers. Closed RFPs frequently lead to smaller contract sizes and may call for protracted negotiations and shorter periods.
Another approach to issuing RFPs is the hybrid RFP approach. In this approach, the RFP is issued individually to a few selected vendors, but is also made publicly available for any interested vendors to respond to. This approach may be used by organisations that are struggling to attract enough interest or exposure using an open RFP approach.
---
Opening the Door to RFP Opportunities
After familiarising yourself with key RFP definitions and types, the next step is to uncover the opportunities that are out there. Finding open RFPs is relatively easy, as long as you know where to look. However, getting invited to participate in closed RFPs requires a more proactive approach. In this guide, we'll explore both methods and provide tips on how to maximise your chances of success.
---
Ways to Find FRP Opportunities
Though it can be a time-consuming and difficult task, there are two main methods you can use to find open RFPs. You have the choice of conducting a manual search for RFPs. However, it might be worthwhile to spend money on an RFP database subscription if you want to expand your company quickly. These paid services gather RFP data from commercial and governmental websites and combine it into a single, searchable database. They can help you save a lot of time and work for $10 to $50 a month.
Consider variables like the frequency of changes, the relevancy of the RFPs to your organisation, and the availability of automatic email notifications based on your qualifications when selecting the best RFP databases for your company. The RFP Database, FindRFP, Government Bids, GovSpend, Gov RFP Finder, Bid Search, Open Minds, Bid Prime, RFP Guru, BidNet, and Bid Banana are a few of the top RFP databases.
You can also search for RFPs manually. When searching for RFPs manually, it requires effort and research, but it's an economical approach to uncovering new opportunities. Google is one resource that can be used to manually search for government RFPs. Government organisations must publish their RFPs, thus they typically do so online or through a searchable portal. As each state may use a different term, you can search for the name of the state or municipality along with words like contracts, procurement, RFPs, request for bids (RFBs), or invitations to tender (ITTs) to find opportunities.
RFPs can also be found by searching social media. Although it's less frequent, some businesses may publish RFPs on social media sites like Twitter or LinkedIn. Finding RFPs can be simple by using the search feature of these platforms and entering your industry and "RFP."
---
Ways to Crack Closed RFP Opportunities
The key to receiving an invitation to a private RFP is ensuring that the appropriate individuals have access to your company's material. There are many ways to accomplish this, but I've found two that stand out as being really efficient.
To crack closed RFP opportunities, it's crucial to get your company's information to the right people. There are a variety of ways to achieve this, but one method I've found to be particularly effective involves proactively reaching out to potential buyers.
Aligning your efforts with your organisation's presales, sales, and marketing teams and reaching out to potential buyers involves identifying ideal customer profiles and targeting top accounts through account-based marketing. As part of this strategy, you can get in touch with a company's procurement department and let them know you're interested in being evaluated for upcoming RFP chances. Be warm, understanding, and educated about their industry in order to stand out. You can also provide any credentials or local contacts you may have related to diversity.
Another option is to create a vendor profile or register as a supplier on the websites of sizable companies that accept online applications from vendors. Wells Fargo, Johnson & Johnson, Bausch + Lomb, KeyBank, Pfizer, and AIG are a few examples of these businesses. Remember that this procedure may go by several names, such as vendor form, supplier registration, or vendor profile. You can improve your chances of winning closed RFP opportunities by using these tactics.
Finally, to get your company noticed by procurement brokers and consultants, who can provide access to a wide range of RFPs, it's important to introduce yourself and demonstrate your value. When contacting these experts, keep in mind that they are constantly seeking to provide their clients with the best outcomes possible.
Send an introductory email first, outlining how your business may benefit their clientele and how it differs from the competition. Find out about their vendor onboarding procedures and whether they keep track of available vendors using vendor profiles. Follow up with a brief vendor profile of your own if you don't hear back after a week or so.
To keep the connection going after you make it, stay in touch with your contact. Ask for input on how you can make improvements and offer valuable information and thoughts. Developing a sincere rapport with a broker or consultancy can improve trust, get you on RFPs, and give you useful insights into market trends.
---
Ace Your RFP Game with These 5 Tips
In order to ensure that you are at the top of your game, make sure that you are able to tick the boxes on the game plan that will get you on top of the scoreboard.
Verify Your Eligibility
Be strategic in your RFP responses. Carefully review the requirements and selection criteria to ensure you meet the qualifications. Don't waste time on proposals that have little chance of success. Responding to too many RFPs with little effort can hurt your win rate and strain your proposal team's resources.
Research Your Potential Client
Research your potential buyer thoroughly to gain insight into their needs and goals. For government RFPs, review previous winning proposals to better understand what they're looking for, as vendor responses are often publicly available.
Follow the Directions
Carefully read the RFP instructions before starting your response. Prepare a compliance matrix to ensure that you meet all requirements, especially for government RFPs. Failure to adhere to submission requirements can result in rejection.
Ask for Clarification
Don't attempt a guess if something in the RFP is unclear. Even if vendor questions are not permitted by the timetable, request clarification. This will demonstrate your interest in learning more and being a partner in their firm.
Tailor Your Message
Customise your response to the customer by addressing their needs and concerns, and highlighting your unique advantages. Use your proposal knowledge library to create tailored responses.
---
The Winning Touch
For those striving to expand their business by winning more RFPs, it's not enough to simply search for opportunities. You must also ensure that your current response process is operating at peak efficiency to maximise your chances of success.
If you're struggling with heavy workloads and tight deadlines, adding more staff may not be feasible. But fear not, there is a better solution: RFP collaboration software. With tools like Pearler.ai, you can streamline your process and reduce response time by up to 50 percent, freeing up valuable time for your team to focus on content creation, process optimisation, and finding even more RFP opportunities.
Don't just take my word for it. Request a demo or use our return on investment calculator to see for yourself how Pearler.ai can help take your business to the next level. Get the winning touch that you need to come out on top in every RFP.
Looking for more help using Pearler? No problem. Here are some other guides to help you get to know your way around all our great features.